Custom Playground Events & Structures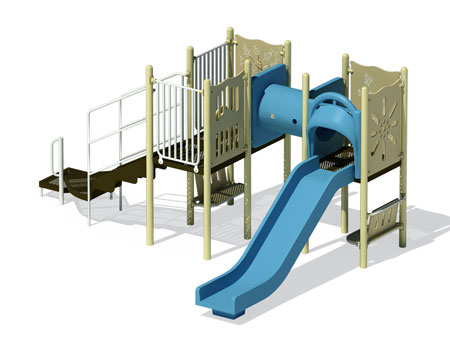 All Playground Company play structures and many stand-alone events can be customized. The modular design of our playgrounds makes it easy to create a playground with the exact events you and your playground committee have envisioned.
You can propose your own changes to the play structures (which will automatically be reviewed by our playground designers to make sure they meet safety requirements), or our playground designers will be happy to work with you to create the playground of your dreams – literally from the ground up. And, there is never any charge for our custom playground services – they are COMPLETELY FREE with any playground purchase.
Call the Playground Company to discuss specifics about the design and installation of all your playground equipment and events. We will help you determine the events, proper design, safety surfacing, and borders that will work best for your specific playground site.
We will provide a computer aided design (CAD) plan of your site that shows your playground in exact relation to the surrounding site, as well as a 3-D rendering of your custom playground in the colors of your choosing.
This design service enables you to "see" your new playground before it is even ordered. It is a powerful tool that will help you "sell'" the playground to your committee members and/or likely donors. The design service we offer is completely FREE and comes with absolutely no obligation.
What You Can Customize
Component Events
Customize the components and play events on any play structure. Whether changes are made to an existing structure or one of our playground designers assists you in creating a custom structure, you are able to choose your favorite playground parts.
Color
You can easily create a custom color pallet for your playground with our large variety of color choices and combinations. Choose color combinations that match your school's official colors, those that meet the covenants of your neighborhood, or colors to complement existing playground elements.
We offer so many possible color combinations, your imagination is the limit! Choose rotomolded plastic colors (slides, roofs, tunnels, and plastic climbers), panel plastics, upright posts and metals. You can also choose one of the pre-selected tried-and-true color schemes that is sure to add visual appeal to your playground without the hassle and uncertainty of trying to figure it out for yourself.
Rotomolded Plastic Colors
Metal Colors
Please note that the appearance of colors in this color key will vary depending on your computer monitor and lighting. This color key is intended to provide you with an approximate idea of the available colors.
Surfacing
The Consumer Product Safety Commission has collected data that indicates over 70% of all playground injuries happen from accidental falls. Proper fall attenuating surfacing is the key to the prevention of playground injuries. Options for proper surfacing are many. Get in touch with us today to discuss and determine the best solution for your specific location and budget.
Installation
There are a number of options for the installation of your playground structure or event:
Professional installation offered through a certified member of the International Playground Contractor's Association (NPCAI).

Installation by the customer using in-house maintenance staff and/or volunteers.

An outside professional contractor hired by you and under your direction.
Note that for #2 & 3 above, optional safety monitoring of the installation during construction by a NPCAI Certified Inspector is available.
Playground Safety & Warranty Information
All of the equipment in our online catalog meets or exceeds the public playground equipment safety standards and guidelines provided by the Consumer Product Safety Commission (CPSC) and the American Society of Testing Materials (ASTM). The Playground Company is an associate member of the International Playground Contractor's Association (NPCAI) and all our installers have NPCAI certification. Our sales and playground design staff consults with Iverson & Associates and MaryLou Iverson specifically, a world-renowned and widely respected playground safety consultant with more than 30 years in the industry.
Our play structures and events are designed for long-term use. All playground structures and events feature a manufacture's LIFETIME WARRANTY on steel posts, a 15 YEAR WARRANTY on steel decks, and a 10 YEAR WARRANTY on plastic components.
Order Lead Times & Shipping Considerations
Most commercial playground equipment is not manufactured until your order is received. As a result lead times from order date to ship date vary from 1 to 6 weeks. Also, since delivery to your address will vary due to proximity to the ship-from location. You will be given a lead time for your specific order when it is placed.
All shipments of larger items that are delivered by common carrier freight (truck), are to commercial shipping dock, residential curbside, or shipping terminal only. The delivery driver is not responsible for unloading your shipment. Although typically the driver will assist you unloading, you should have a sufficient number of people on hand to unload the equipment.
To avoid storage fees on shipping terminal deliveries, the receiver is responsible to accept shipment delivery within 72 hours following terminal delivery.
If your order contains playground equipment from two or more different manufacturers, you may receive multiple shipments on different days.
Damage and short shipments are very unusual, but do occur. It is VERY IMPORTANT to inspect all items when received both for shortage and damage before signing the delivery receipt. The Playground Company is not responsible for these occurrences. At a minimum, you should note any product shipment shortage or container or item damage on the delivery receipt before signing it. Once reported in this manner, shortages and damaged items are the sole responsibility of the carrier. If the goods are damaged beyond your wish to accept them, the shipment should be refused at the time of delivery. If you accept delivery and later finds damage, you are fully responsible for filing a claim with the shipping company. If not reported at time of delivery on the delivery receipt, an approved claim of shipping damage or shortage is very unlikely. We will assist you in anyway possible with shortage/damage claims where the shortage and/or damage has been properly noted on the delivery receipt.
Order Payment Options
PayPal, Visa, MasterCard, American Express, Discover, or organization business check.

Purchase orders are accepted from cities, park and recreation entities, as well as public and private schools.